**************************************
2022 ELECTIONS ARE COMING UP!
State legislative and local races are fast approaching.  Ballot access for state house and senate races have a March 15, 2022 deadline to get the requisite number of signatures (including having them notarized and reviewed by the Portland City Clerk's office and then turned into the Secretary of State's office in Augusta).  If you need to know which district you are in, please consult the following web site: 
https://www.maine.gov/portal/government/edemocracy/voter_lookup.php 
Candidate information and forms may be accessed at the Cumberland County GOP web site via this link:
https://ccrcme.com/elections/election-races/
Anyone wishing to run for any of those offices should contact our Chair, Josh Kelton at chair@portlandcitygop.com.
*******************************************************
  PRCC JANUARY MEETING MONDAY 1/24 AT 6:30 PM
 PRCC will be having a joint meeting with the South Portland committee this month at 77 Hill St. in South Portland at 6:30 pm on Monday 1/24. Please park on either Hill St. or Lombard St. and enter through the door on the deck.

Our speaker this month is the Mike McClellan, Policy Director for the Christian Civic League of Maine who will be talking on critical race theory.


Guest speaker:

Mike McClellan is Policy Director for the Christian Civic League of Maine. Mike lives in Raymond with wife, Michelle and has 2 grown children. He has served in many coaching and elected roles in his adult life including school committee, select board and Maine House of Representatives (3 terms). Of note, he is in the small group of Republican Maine officials who led as Republican Governor/House/Senate. This has happened only 1 term, 2 years since the 1970's.  He has chaired a building project and had many other public experiences. Christian Civic League is non-partisan but tends to fall to one party over another. CCL Maine's mission is: Include God, support Life, Marriage and Religious Freedom.

***************************************** 
PRCC HAPPY HOURS TO CONTINUE IN 2022! 
Our January happy hour will be held at Rivalries Sports Pub & Restaurant at 10 Cotton Street in Portland from 6-7:30 pm on Thursday, 1/13.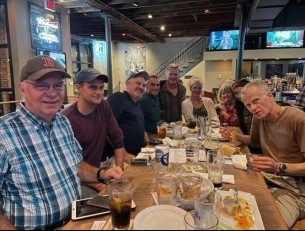 ****Our PRCC October Happy Hour at the Portland Rivalries location****
**********************************************
Lincoln Club Dinner - Friday, February 11, 2022
Buy Tickets for the Lincoln Club Dinner
Friday, February 11, 2022 at this url:

https://ccrcme.com/events/lincoln-club-dinner-friday-february-11-2022/
NEWS RELEASE
FOR IMMEDIATE RELEASE
January 7, 2022

Contact: Barbara Campbell Harvey, (207) 837-2400, barbara@mainegop.com

Lincoln Club Dinner Announces
Dr. Tom Desjardin as the Keynote Speaker
with Special Guest, Governor Paul LePage.
CD 1 Candidate Ed Thelander and other candidates
will also join us Friday, February 11, 2022,
as we honor President Lincoln.

PORTLAND, Maine - On Friday, February 11, 2022 (no snow date), the Lincoln Club will hold its 136th Annual Lincoln Dinner in Portland, Maine. Due to Covid restrictions, there was no dinner in 2021. These dinners are held every year around the country in honor of our 16th President and one of the Republican Party's great heroes, Abraham Lincoln. Many elected officials and candidates have been invited and expect to attend.

The dinner will be held at the Portland Elks Club located at 945 Congress Street, across from the airport entrance in Portland. There will be a cocktail hour/cash bar that will begin at 6:00 PM. The buffet dinner includes a carving station with roast turkey, meatballs & ziti, baked haddock, and a vegetarian dish along with salads and side dishes that starts at 7:00 PM. Tickets are $50 per person or $95 for two. There will be a limited number of tickets at the door. Tickets are available online at: https://ccrcme.com/events/lincoln-club-dinner-friday-february-11-2022/.

FMI: Jim Nicholas 207-767-3030 at his office; Steve Scharf 207-415-4662, Karen Lockwood 207-751-1667, or Barbara Harvey 207-837-2400.

Our keynote speaker is Dr. Thomas A. Desjardin, who has published many books, including: Stand Firm Ye Boys from Maine; Joshua L Chamberlain: A Life in Letters; Through a Howling Wilderness; Blessed Boyhood; and These Honored Dead. Our Guest Minister will be Rev. Jeffrey McIlwain, M. Div. (AME Zion) of the Cumberland County Correctional System.

There will be a silent auction featuring art pieces, signed books, a custom-designed and sewn quilt, plus many other items. Signature gathering will be conducted during the cocktail hour, plus a 50/50 and raffle, so bring your credit cards and checkbooks to help the Cumberland County GOP support their candidates.

###