*** PRCC APRIL MEETING MONDAY 4/25 AT 7 PM ***

PRCC will be having a joint meeting with the South Portland committee this month at the East End Community Center. We will be meeting in the Community Center's Community Room at 195 North St. in Portland.

Our guest speakers this month will be Suheir Alaskari, Chair of the new GOP Multi-Cultural Center on Munjoy Hill and Aqeel Mohialdeen, Vice-Chair of the center.
 
Guest Speakers

Suheir Alaskari and Aqeel Mohialdeen from the Maine GOP's multi-cultural center on Munjoy Hill will be giving an overview of the center and its purposes and goals as well as taking any questions you may have.

The Center is a volunteer-driven effort created by folks who are energized about reaching new communities to assist them and show them that the GOP is an active force for positive change in their communities. The Center will provide educational opportunities both in political training to amplify their voices within the community, but also assistance with job training, immigration assistance, language training, and much more.
The chair of the Center, Suheir Alaskari, was born and raised in Baghdad, Iraq. She worked with US government projects in Baghdad and moved to Maine in 2014. She studied in Sweden and France, and settled down in Portland in 2017. Suheir has a Bachelor's degree in microbiology, a Bachelor's in Business Administration and Economy, and a Master's Degree of Policy, Planning and Management from Muskie School of Public Service/ USM in Maine. She is certified as a Human Rights Consultant. Suheir teaches immigrant women during weekends on self-empowerment and career development with the team of the Charting Your Course Program, and she is a member of the City of Portland's Office of Economic Opportunity advisory council.
Suheir lives in Portland.
The vice-chair, Aqeel Mohialdeen, is originally from Baghdad, Iraq. In 2010, he came to the United States as an immigrant. Aqeel was awarded a special immigrant visa for his outstanding and faithful work for the U.S. government development projects in Iraq (USAID). In 1999, after obtaining his bachelor's degree in graphic design from the University of Baghdad, he worked in many fields as a graphic designer, a photographer, a journalist, a documentary filmmaker, and an outreach and multimedia specialist. In 2021, Aqeel earned his bachelor's degree in political science from the University of Southern Maine.
Currently, Aqeel works for Preble Street as a caseworker, a volunteer with the League of Women Voters of Maine, a freelance graphic designer, and a marketing/ communication consultant for microfinance projects overseas.
To get involved with the Center or any other Maine GOP efforts, visit MaineGOP.com
 *******************************************************************************
Join Ed Thelander
Maine's U.S. Congressional Candidate for Maine's District 1
Munjoy Hill Tavern
189 Congress St ~ Portland ~ Maine
When: April 23rd ~ Noon -????
(207) 536-0918
Great Food ~ Great Atmosphere 
***************************************** 
PRCC HAPPY HOURS TO CONTINUE IN 2022! 
Our April happy hour will be held at Rivalries Sports Pub & Restaurant at 10 Cotton Street in Portland from 6-7:30 pm on Thursday, 4/14.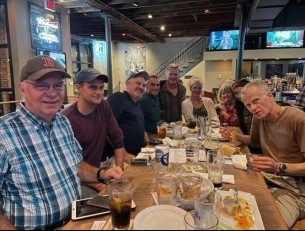 ****Our PRCC October Happy Hour at the Portland Rivalries location****
******************************************************************************
Portland Legislative Candidates on the June 14, 2022 Primary Ballot
State Senate Districts: 
27 (Stroudwater/Libbytown/Nason's Corner/North Deering):  Jeffrey Tounge
28 (East Deering/USM/Portland Peninsula): Ryan McMann 
House Districts: 
112 (North Deering): Tammy Ryan
114 (East Deering): Daniel Merrill
115 (Deering Center): Andrew Mahaleris
116 (Libbytown): Dale Holman
119 (Munjoy Hill/Downtown/Islands):  Peter Doyle
Voter District Lookup: 
 https://www.maine.gov/portal/government/edemocracy/voter_lookup.php
District Maps can be found here:
  https://www.maine.gov/sos/cec/elec/apport/index.html